Ovation Jewish Home Names New Nursing Professor in Aging
A gift from Ovation Communities, supported by the Jewish Home and Care Center Foundation, will advance the work of Murad Taani (pictured on left), assistant professor of nursing at UW-Milwaukee. The Foundation's gift will support a five-year professorship for Taani as the Ovation Jewish Home Joint Research Professor in Aging.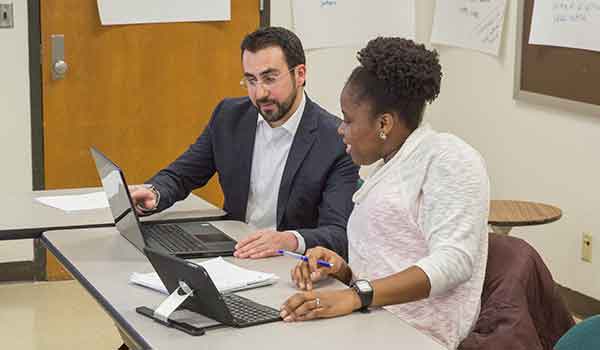 "I'm very excited for this opportunity with Ovation Communities," Taani said. "The groundwork we've laid will allow me to focus on promoting health and safety of older adults and improving patient outcomes."
Taani's research focuses on older adult health and illness care, including optimizing function, physical activity, and muscle outcomes, and facilitating healthy behaviors among older adults across all settings of care, including assisted living facilities and nursing homes. He has been involved in interprofessional teaching and research related to aging, gerontological nursing, and health promotion.
Dean Kim Litwack shared, "UWM College of Nursing is pleased to continue our partnership with Ovation Communities and the Jewish Home and Care Center Foundation. Pairing researchers with clinicians at the bedside allows new evidence to develop and directly impacts the health of aging adults in Wisconsin."
Michael Sattell, president and CEO of Ovation Communities, said the foundation's growing commitment toward research is based on a long relationship with UWM's College of Nursing. "Dr. Taani has been associated with our organization for several years under the mentorship of Distinguished Professor Emerita Christine Kovach, the previous holder of this professorship. Dr. Taani's research focus aligns with the Ovation Communities' mission, and we are excited to expand our research capabilities."
October 11, 2021
View original article here.