Orthopaedic Hospital of Wisconsin's $2.1M gift supports Klotsche expansion at UW-Milwaukee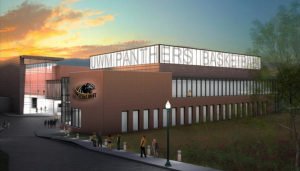 A $2.1 million gift from the Orthopaedic Hospital of Wisconsin to the University of Wisconsin-Milwaukee will support the planned expansion of the college's Klotsche Center & Pavilion.
The gift will create a dedicated basketball practice facility and improve student recreation space on campus, according to a news release. The new building will be named the Orthopaedic Hospital of Wisconsin Center.
The OHOW Center will be on the east side of the pavilion and will connect to the Klotsche Center by skywalk over the existing driveway.
UW-Milwaukee expects the new facility to alleviate congestion at the Klotsche Center when athletics and campus recreation uses coincide, according to the release. Athletic director Amanda Braun said a dedicated practice facility for basketball will enhance recruiting efforts.
"The continued growth in the use of the Klotsche Center by all students has created the need for this facility," Braun said in the release. "We are very thankful to OHOW for taking the main role in support of the new facility and allowing us to meet the needs of the student athletes and the entire campus."
The total cost of the project is estimated to be around $8 million, and construction will be funded through philanthropy and student-directed segregated fees. Through the state's most recent budget process, legislators approved use of $7 million in student fees the campus has been collecting for the expansion.
Orthopaedic Hospital of Wisconsin's gift will be used for planning, construction, furnishing, staffing and operations, the university said.
The hospital in December renewed a contract with the university to be the exclusive provider of orthopedic care, physical therapy and health care coverage for UWM's student athletes. At that time, UWM did not reveal the financial details of OHOW's sponsorship but said it was the largest-ever in the athletic program's history.
View the original article here.